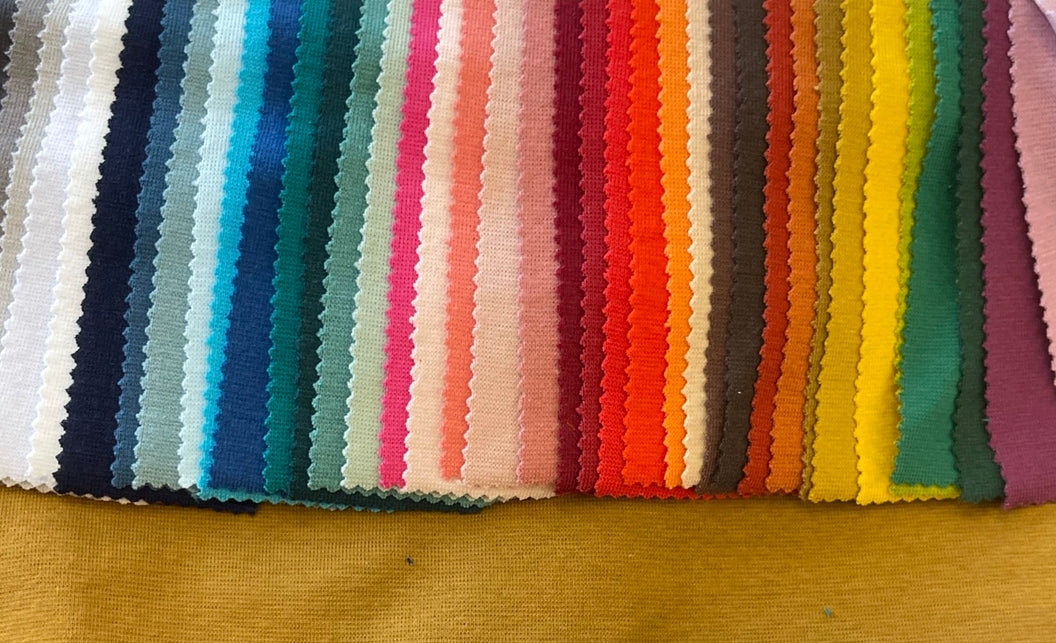 Add Matching Cuff Ribbing to your Fabric
Lamazi Fabrics
This product is available.
Are you not sure which cuff ribbing  is the best match to your fabric? We have a large choice of colours of cuff ribbing available in our studio. Just add a length (1=half metre) you require and we will will select the right colour cotton ribbing for your project, based on your fabric choices, just leave us a note in the checkout which fabric you want it to be matched to.
Please note that the price provided for this service is for a See You At Six 110cm wide cuff ribbing, more specifications about this fabric is provided below. However, we may find that the colour of other quality ribbing may match better to your fabric in which case we will contact you to pay the difference in price or refund you the difference. The price of cuff ribbings available on our website range from £5 per half metre to £11 per half metre.  
If your fabric has multicoloured print please let us know your preference for colour matching. I'd we do not have a note from you we will select their colours that matches the best from our range. 
Suitable for:  adding final touches to sweaters, tops, t-shirts, cardigans, knit dresses, joggers and lounge wear.
Content:  95% Cotton, 5% Spandex
Weight: 250 g/m² 

Width: 110cm
Stretch: 60% horizontally / cross grain, 20% vertically / across the grain
Opacity: Opaque
Drape: soft and full 
Certification: GOTS Organic
Washing Instructions: Machine Wash on 30 degrees or dry clean, iron on low setting, no tumble dry. 
This fabric is sold in HALF METERS so if you require 1 meter please enter 2 as a quantity. 
We make every effort to ensure a true colour representation is made, however they may vary slightly from those shown on screen.
Liquid error (snippets/media line 45): include usage is not allowed in this context