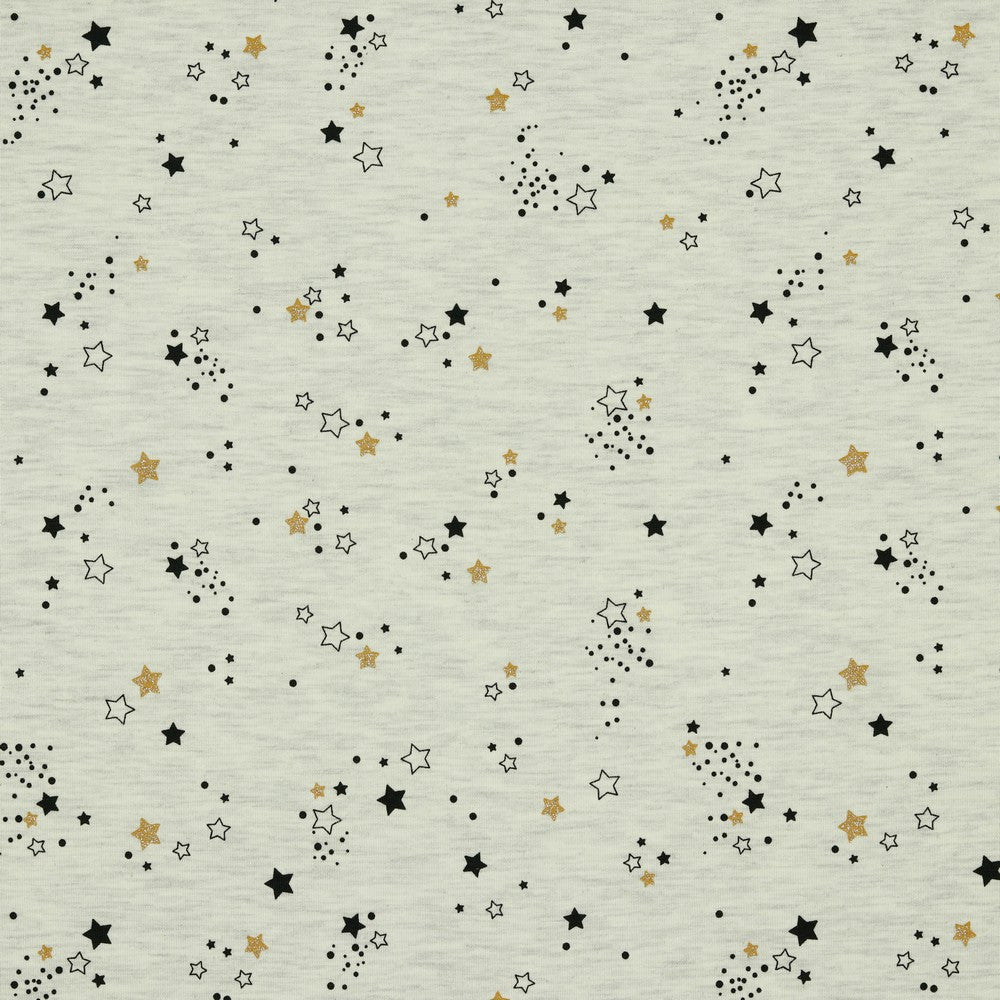 REMNANT 2.69 Metres - Stars with Glitter Ecru Cotton Melange Jersey
Lamazi Fabrics
We have 1 in stock.
Regular price £40.35 Sale £39.00
Stars is a soft and beautiful four way stretch lightweight cotton jersey sprinkled with stars in black and gold colours, with a glitter accent on gold stars on a melange background. It is cosy and comfortable with extra softness. It will bring you a lot of joy when sewing or wearing.   
Melange is the mixing of different coloured fibres together prior to spinning. Knitting with these yarns produces a less monolithic surface colour (compared to cloth from yarn with the same colour fibres throughout).
Suitable for: tops, dresses, T-shirts, leggings and lounge wear.
Content:  60% Cotton, 35% Polyester, 5% Elastane

Weight: Lightweight 200 g/sqm
Width: 148 cm 
Opacity: Opaque
Drape: full
Certification: Oeko Tex 100 Certified
Stretch: 40% horizontally and 20% vertically across the grain with a good recovery 
Washing Instructions: Machine Wash on 30 degrees or dry clean, iron on low setting, no tumble dry. 
This fabric is sold in HALF METERS so if you require 1 meter please enter 2 as a quantity. 
We make every effort to ensure a true colour representation is made, however they may vary slightly from those shown on screen.
Liquid error (snippets/media line 45): include usage is not allowed in this context